Yes, here below is some new video of the Midengine (mid-engine?) Corvette Running Around California, captured and edited by none other than the venerable Raphael Orlove. Chevrolet has officially tagged it the C8 vette, and they've even so much as labeled the #C7 #Corvette Stingray as "the Final Edition" as witnessed at Horsepower Obsessed.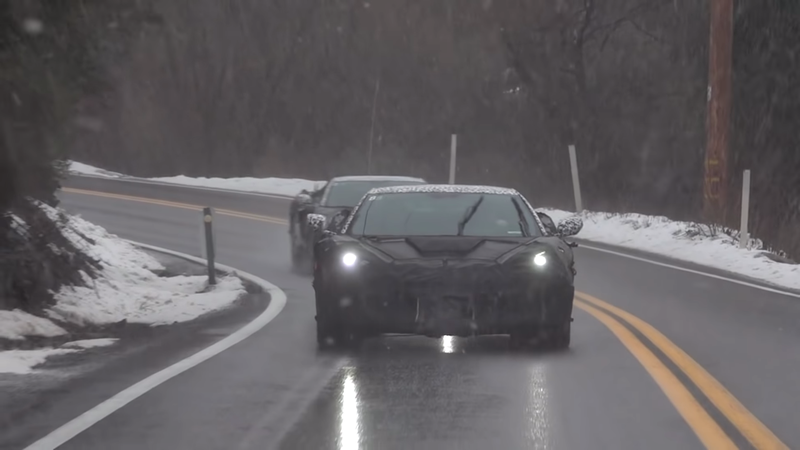 The Midengine Corvette is already burdened with the curse of being an expensive American car. That means it will go on auction early in its production run, and Boomer money will pile onto it and relegate the thing to "collector" status before a tire ever hits the road.
Are you one of these guys who'd like to snatch one up and let it sit (mostly) and gain value? If so, we don't judge, just tell us below! Inquiring minds wanna know.
Regardless, from a driver's standpoint, the car shouldn't be trapped in a garage. It shouldn't be forced to live out its life in a climate-controlled prison, waiting for the day that it can come back up at Barrett-Jackson with LOW MILES EARLY SERIAL NUMBER NUMBERS MATCHING COLLECTOR'S EDITION.
I say this because here's a collection of a pre-production prototypes out in the snow and slush and sleet on a twisting California mountain road, the kind of place a traditional Corvette driver would look at and resolve to stay inside and grouse about while soaking in the hotel hot tub… – see more by Raphael Orlove 
For the full article go to Jalopnik and share and give Orlove and Jalopnik some car enthusiast love.
I don't claim the rights to this article or any post from other sites; I'm simply a fan and enthusiast myself who likes to share and get word out on rare, collectible, unique, or otherwise hard to find or appreciating well-loved cars that are classics or soon-to-be-classics. Occasionally I post them here at nelson-wells.com .
For other Classic car info or posts on Pontiac GTO's, E39 BMW's, Bimmer wagons, or too many timeless classic Toyota Land Cruisers, see my other posts below or on my blog. – Nelson Wells, Athens, GA