(Today 2020) Well, I wrote the following article over a year ago, mid March of 2019, and my numbers were mostly spot on. For the month of April 2019, Bitcoin's price averaged $4,836.79. Here just 4 days from the halving bitcoin is at $9,433.16 according to Coin Market Cap, and almost exact doubling in price from one year ago despite it's large dip to the $3,000's just weeks later in May of 2019.
The top countdown clock counts down to the actual halving at the 210k block late May 11, early May 12th. The bottom clock was my year-out prediction of a price doubling as we approached the halving with a peak price just 3-5 days prior to halving. I'd say it's right on the money. Now let's see if my prediction of a slight correction comes as non-Hodlers sell off near $10k and BTC price stagnates for 8 months as it did after the previous halving just before it ran up new bull market highs straight through 2017.
Who's gonna call me out, correct me or give me that "Atta-Boy, Nelson" down below? shhhh, I predict no one. We have a damned pandemic on or hands and minds. Best of luck and love to you all, friends. These are strange times indeed. – I"m out. – Nelson
Original article of March 2019.
Our Bitcoin halving countdown clock is on and counting backwards to May 7, 2020, the date I predict the price of Bitcoin will be doubled it's current $4,800 average and just 4-5 days prior to the point when the blockchain will reach the next halving. I predict $BTC will be more than double its year previous price per coin at that point and if similar to the previous halving in 2016 the price will correct by 15%+/- for the following months. [Share our clock or copy our code and embed it yourself]
Athens, Georgia. Nelson Wells is an investor, Co-founder, CEO, and Blockchain "Futurist"
If you'd like to see the countdown clock from respected exchange company, Binance, you may do so here, https://www.binance.vision/halving. Binance predicts the having will occur 3 days later than my prediction on May 10, 2020.
Atlanta Digital Currency Fund's chief investment officer, Alistair Milne, has said that the block reward halving of Bitcoin could push the price of the dominant cryptocurrency to massive gains in the next 12 months, or any 12 month period leading up to the halving.
Do YOU believe Milne's claim and basis? If so tell me why, and if not, let's hear it. Personally, I believe the greatest gains to Bitcoin's value will come in the 12-24 months AFTER the halvening event. By the way, what this date represents simply is the day the "reward" for mining one full block of Bitcoin on the blockchain will drop from 12 BTC to 6.5 BTC per block which miners get to keep for creating that block. This is how miners create "income" by running their very expensive computers 24-7 and racking up the electricity bills that go along with such "hash power."
The halving occurs each time Bitcoin's block height reaches 210,000 blocks, or approximately every 4 years. See the chart below from Binance for an outline of when havings occur and what rewards change to.
According to an article in CCN Friday March 8, 2019 titled, "Bitcoin's Impending 'Halving' Could Spark Meteoric Price Boom," the impending 'halving' could lead to these massive gains.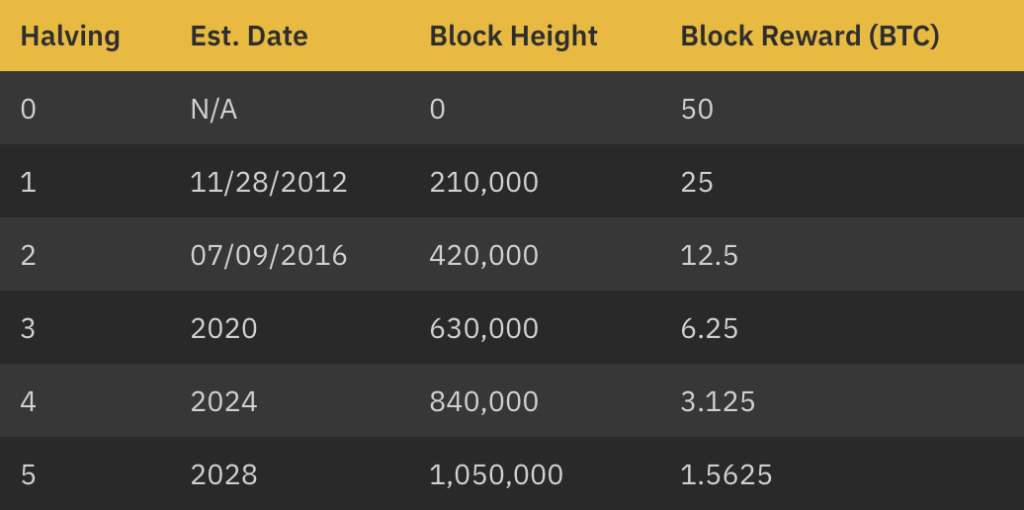 Bitcoin's May 2020 halving could lead to a meteoric price boom for the flagship cryptocurrency. | Source: REUTERS / Dado Ruvic / Illustration / File Photo
Bitcoin's Impending 'Halving' Could Spark Meteoric Price Boom
A block reward "halving" in Bitcoin is referred to as the mechanism that decreases the amount of Bitcoin generated by miners after mining a block.
On the Bitcoin network, the blockchain, miners solve complex cryptographic problems using computing power to process transactions, which are then placed in blocks to form a blockchain.
To compensate miners, every block generates a fixed number of Bitcoin to "pay" the miners for serving the community and running the nodes which create the blocks, and this "mine" the cryptocurrency "coin."
The block reward, or fee to miners, of the Bitcoin network decreases by half for every 210,000 Bitcoin mined. Traditionally, a block reward halving like this has led the price of Bitcoin to rally because it reduces the rate in which new BTC is produced.
As Bitcoin nears its fixed 21 million supply, the scarcity of the digital asset increases, which boosts the price and the demand from the market.
Historically, the Bitcoin price has tended to move a year before the block reward halving. While a few analysts claim that the halving is already priced in, the numbers show that it gradually gets priced over time, and even accelerates, as the cryptocurrency approaches its halving date.
See the related article by cryptocurrency author Joseph Young of Bitcoin Analysis, Bitcoin Price News at CCN.com
Meanwhile, leave me your comments and thoughts on where (and why) you think Bitcoin, Litecoin, Ethereum and other cryptocurrencies are headed into 2020 and beyond.