"Nelson is an amazing host with many thoughtful touches and great communication. The location is amazing and the house is stylish and comfortable." – Cherie,

June 2020
"Nelson is an impeccable host!" – Sherri, Nov 2019
"Nelson was an amazing host!   He went out of his way to make us feel welcome in his home and everything was just perfect! It's SO close to downtown, the stadium and so many great restaurants." – Lea,

November 2018
NEW UPDATE 2020:  Our home has just been nominated as one of the first AirBnB *Verified Home* Listings in Athens!  The Nelson Wells House is an ideal modern build in classic cottage style just 3-blocks to downtown Athens, Georgia. I'm Nelson Wells, entertainment industry publicist, and I designed and built this cozy little home just steps to UGA, downtown and the stadium.  16-foot ceilings welcome you to a large open-format living-dining area with all stainless steel, slate fireplace & backsplash, hardwoods, custom cabinetry, and lots of sunlight. It's a comfy cottage that easily sleeps 6 and 7 or 8 with little ones.  Safety, privacy & discretion are #1 here. 
We are proud and excited to share that our home has been nominated to be a part of "AirBnB Verified" launching this year. (Anyone thinking UGA bulldogs football? – Let's hope so).  "Safety, Discretion, & Attention to Detail" are all top priority which is what garnered the nomination.  With the current Covid19 situation we've worked hard to offer not just a cut above the rest but the absolute best vacation rental Athens has to offer.  We bring in the best cleaning crews who have been thoroughly vetted for professionalism and disinfecting know-how.  We leave our guests with only the best cleaning products for their own use; products like Mrs. Meyers Clean Day in every room as well as disinfectants. And with a background in the entertainment industry with a nod to those seeking privacy, we are host to discerning guests some of whom are members of SAG or worldwide touring acts.
The Nelson Wells House is a Downtown Athens Cottage near the University of Georgia (UGA) in Athens, Georgia. This is our home, and it's also a vacation rental house designed by me, Nelson Wells, publicist, promoter and co-founder at Team Clermont, indie music PR firm and talent house.  I'm also co-founder of two of the cutest identical twin girls this side of the Mississippi.
Below are the details of our little home we rent out for UGA football games, weddings, and more.  We typically rent directly through AirBnB, however it is possible to rent and contract our home directly through us.
An exquisite home in a quaint "cottage" footprint in Athens, Georgia designed for comfort and efficiency, this 3 bedroom home sleeps 6-7 comfortably and is only blocks from UGA, the University of Georgia bulldogs' (the "bulldawgs" as they're known locally) Stanford football stadium and just a 3-minute walk to 4-star and 5-star restaurants, unique bars, pubs, and coffee shops on the western edge of downtown Athens. As you enter the front door, our home welcomes you with 16-foot ceilings, hardwood floors, stainless appliances, and black granite surface tops.  Slate stone surrounds the gas log fireplace and covers the backsplash.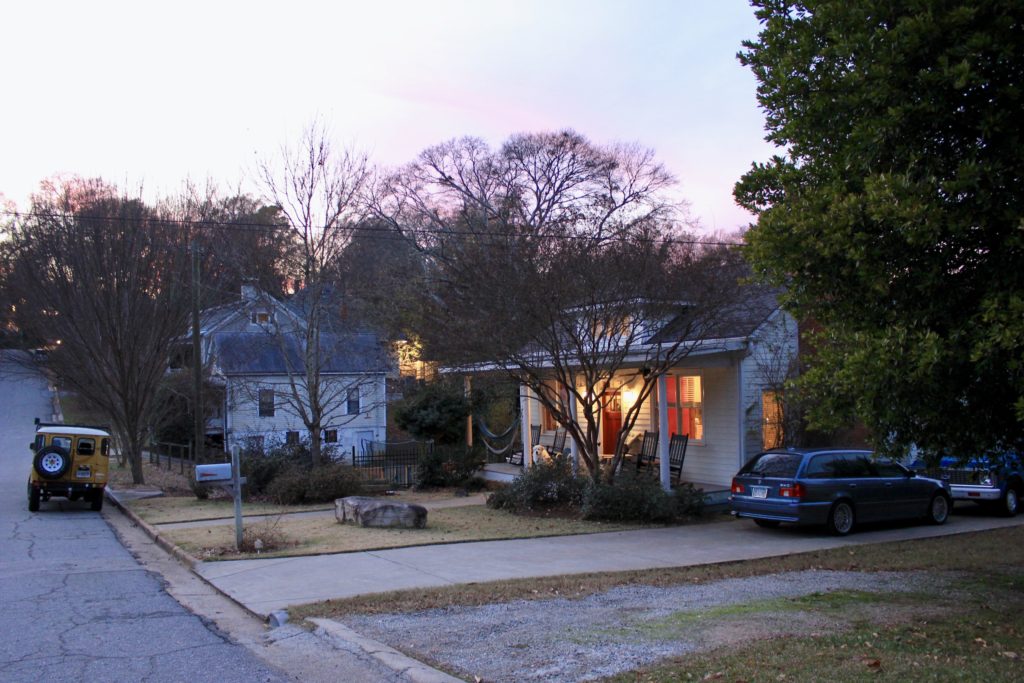 Rental Rate: We have specials regularly & rates change; See our page on AirBnB.com.
This is a recently-built modern Dwell-style 3-bedroom 3-bath custom-designed home in the shell of a quaint Craftsman cottage, fairly unique to downtown Athens. We are just a block or two from nationally ranked and James Beard-awarded restaurants (The National, Seabear Oyster Bar, Last Resort Grill, 5 & 10  and more), cafes, oyster bars, nightclubs, the UGA campus & all of downtown. Built in 2007, updates were completed in 2012. More updating has taken place in 2018.
You can expect the very best of in-town convenience with fine attention to detail. As you can see this home is designed with an eye for modern and minimalist detail yet with cozy bedrooms and living areas and also in a quaint Historic neighborhood just steps away from downtown Athens (literally 3 blocks walk) & the campus of The University of Georgia (UGA), as well as the Medical School Of Georgia on Prince Avenue just down the street.   
Seven high-quality restaurants are within a 1 to 2 block walk.  Three coffee shops and two coffee roasters are within a 2-3 block walk including Jittery Joe's Coffee Roasters, The National, Seabear Oyster Bar, Viva Argentina, Hendershots Coffee & Bar, and the newest French-style cafe, Buvez! 
We have a WALK SCORE of 89! (at the walk score site), which means EVERYTHING you could need is within walking distance from this charming edge-of-downtown neighborhood including 85+ pubs, restaurants, coffee shops, and 2 charming local grocery stores. Here's a partial list: Gift shops, high-end liquor stores with wine tastings, MTB-mountain bike trails, mapped cycling loops, 5k & 10k run courses, jogging trails, bicycling neighborhoods, the Historic district of BLVD, the tour of homes routes, The State of Georgia Botanical Gardens and hiking trails, bird watching trails of Sandy Creek Nature Center, the beach & swimming & fishing lake Chapman at Sandy Creek Park and their frisbee-golf course, the public pool at Bishop Park, 3 top golf courses, and the walking tour of Athens Music History.
For rentals and details please go to AirBnB.com and come see us in Athens. You won't be disappointed. – Thanks, Nelson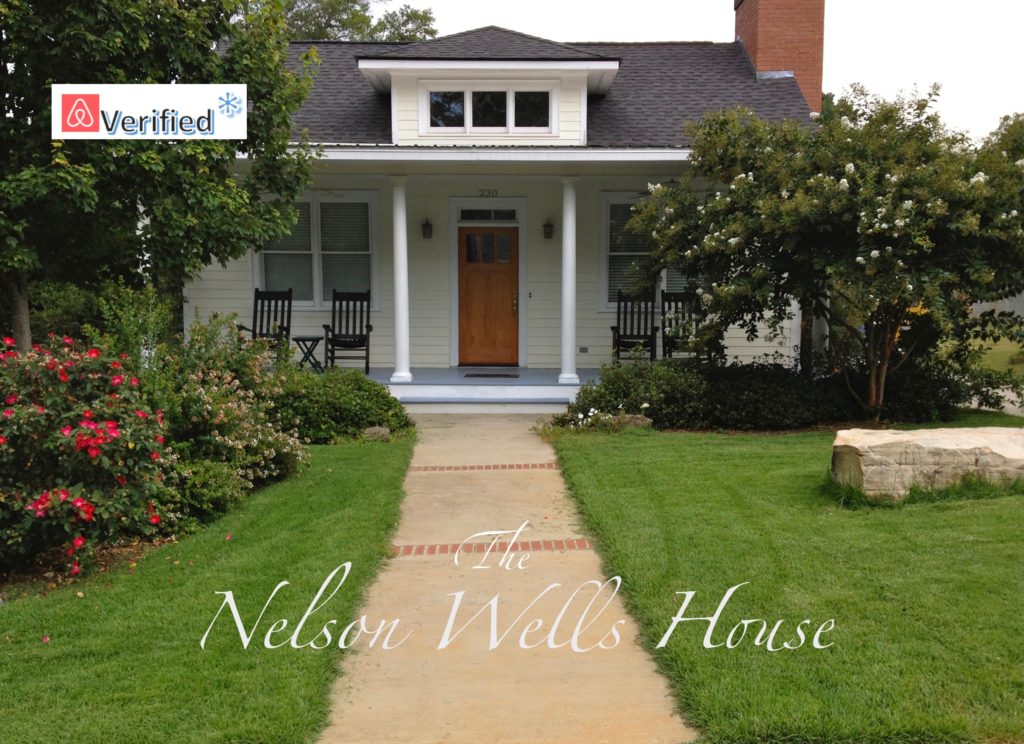 ***We sometimes get Georgia football game tickets; it's rare, but it can't hurt to ask just in case we end up with an unclaimed ticket or two for sale, purchase or trade.
Contact Nelson Wells for more information at AirBnB.com or
hit this google link: The Nelson Wells house –  Downtown Athens Georgia at UGA
or I may be contact directly for special rental needs at
email nelson wells (a t ) teamclermont  (d o t)  c o m
Purchase: This Barrow Street home is our full-time residence and not currently listed, but inquiries are welcome. For now, book in confidence and book it early to lock in your big weekends. We can't imagine not being in this terrific neighborhood.
We are also now on Trip Advisor here. 
 Guest Reviews:
15 Reviews ⭐️⭐️⭐️⭐️⭐️
Perfect house for a weekend in Athens. Can't wait to come back!
This house is perfect for families or friends that need some room to spread out. This is the second time we rented the house and hope to rent it again someday! The layout is perfect to allow is to all be together but have our own space if we need it. Nelson is an impeccable host!
Nelson was an amazing host! He was so pleasant to work with upon securing the house 6 months in advance of our stay. He reached out 2 weeks before arrival asking me about what kind of beverages and coffee we liked. He went out of his way to make us feel welcome in his home and everything was just perfect in the house! It's SO close to downtown, the stadium and so many great restaurants. We walked everywhere! This is a spot we'll seek out every time we need a place to stay in Athens!
Response from Nelson:
Thanks, Lea. We were so glad to have you and your family and friends. You all must have been out on the town enjoying the restaurants because our home was immaculate. What a great and easy crew. (I left them some locally brewed beer and they left me some great Savannah-brewed beer!) We will welcome you all back any time. Sincerely, Nelson
Thanks Nelson, we had a great time. The house was perfect for our weekend in Athens. We will defiantly be back. Don Wilson
Nelson's Athens Cottage was exactly how he described it! Charming, comfortable, and clean! We loved the neighborhood and how easy it was to walk to the game at UGA, and the wonderful restaurants just down the block. The neighborhood was quiet and safe. Nelson was very welcoming…
~~~~~~~
More photos… (MANY more are on our AirBnB site above).